I've been thinking about writing up this post for the last few months now but with the release of ScummVM 1.4.0 a few weeks back (which supports T7G iOS), now seems like a suitable time.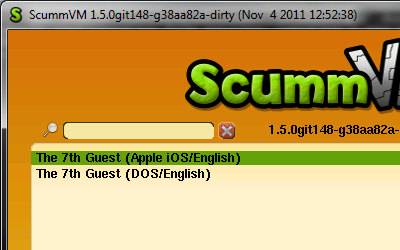 The 7th Guest for iPhone and iPad was announced mid last year and then released in December. I read around a bit at the launch and it seemed a mixed bag – three culled puzzles (including the notorious microscope puzzle), high framerates for most videos, but a good large dose of nostalgia for many people.
Back in April I was able to borrow a friends iPhone, and so was finally able to test out the port for myself. Though it played fluidly, it was a little rough around the edges – the music was a little flat (admittedly this is personal preference), the cursor mapping just above the finger was a little awkward for some puzzles, high-speed animations included all the 'teeth' events which took away from the atmosphere (and caused out-of-sync music). Interestingly, the port also suffered the same problem as the Windows interpreter (see ScummVM bug #2831041) though not too surprising given the Windows release source was likely used as the reference. Similarly, the cake puzzle bug also still exists.
After the playthrough, the next step was to obviously look under the hood. After extracting the app archive and digging down into the folder heirarchy, it turns out almost all the original game datafiles were present, completely untouched (including the original introduction and credits – both of which were replaced in the port). Data-wise, the largest change was the removal of XMIDI music in favour of AAC.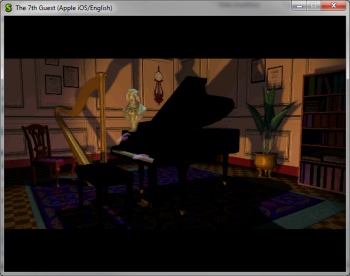 Work then began on the required changes to support the game – clone2727 mostly worked on the AAC decoder (as part of extending the QuickTime code) while I added the necessary changes to handle and load the music resources as well as a config file option to run the game at faster game speeds (add t7g_speed=tweaked in the ScummVM config file for faster walking/puzzles but normal cutscenes and supernatural events, t7g_speed=im_an_ios for all non-cutscene videos sped up).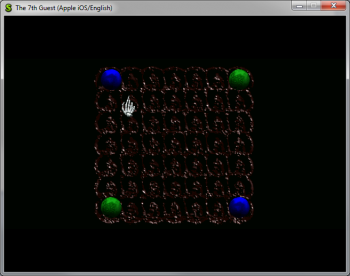 In the end, it was a relatively straight-forward process to add support for the game. The missing puzzles are also back as the required game scripts were never removed. Best of all – this provides an easy way (if you have an iTunes account) to grab T7G but play it on whatever platform you desire 🙂